4esse • caratozzolo GROUP
BUCKETS FOR SEPARATE COLLECTION
the difference? only the color
Paper-cardboard • Undifferentiated
Organic • Plastic • Glass

IML labels are customizable at the customer's request. Containers can also be equipped with RFID technology with serial numbers or alphanumeric codes to personal specifications. RFID waste means introducing a tracking and tracing system that helps the city make smarter management of collection services. 4Esse is MEPA-enabled.
4 ESSE presents the most comprehensive bucket system for recycling collection
PATENTED ABSOLUTE NOVELTY. Ltr.25 and 35 garbage can for door-to-door separate collection complete with lid with drainage to prevent rainwater deposit, IML label for greater visibility (of type of waste) that allows the lid to be customized by total fusion of the label with the packaging itself, for greater durability to atmospheric exposures, fully recyclable as the labels are made of polypropylene like the container, also arranged for the application of Braille writing (tactile reading system for the blind). With built-in plastic handle with anti-random lock and free of ribs for easy and easy cleaning. Equipped with No. 3 RFID housing slots built into the top edge of the bin, and grip on the bottom for easy emptying by the operator. Our garbage cans have internally chamfered corners to prevent bag breakage and dirt deposit, completely made of 80% recycled polypropylene (PP) and certified second life plastic, which guarantees resistance to impact, chemicals and UV rays as tested and 100% recyclable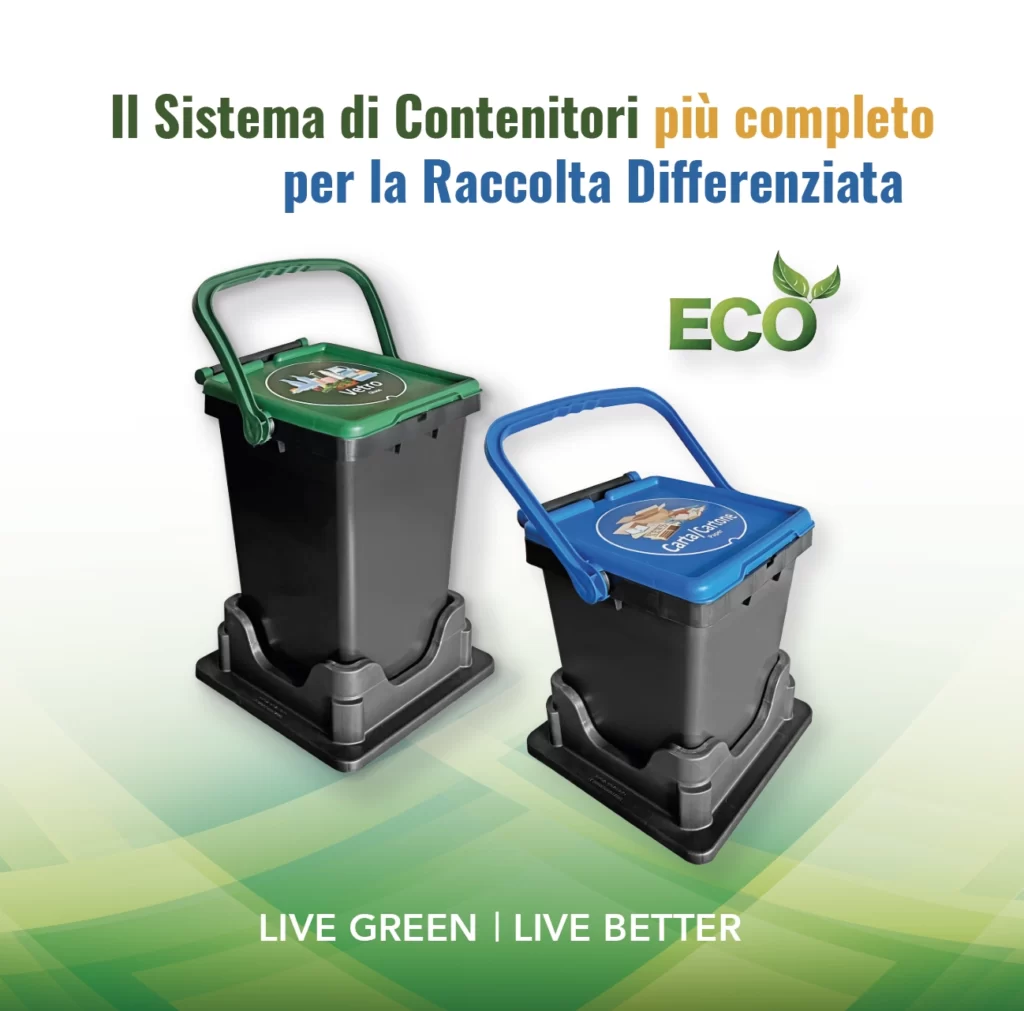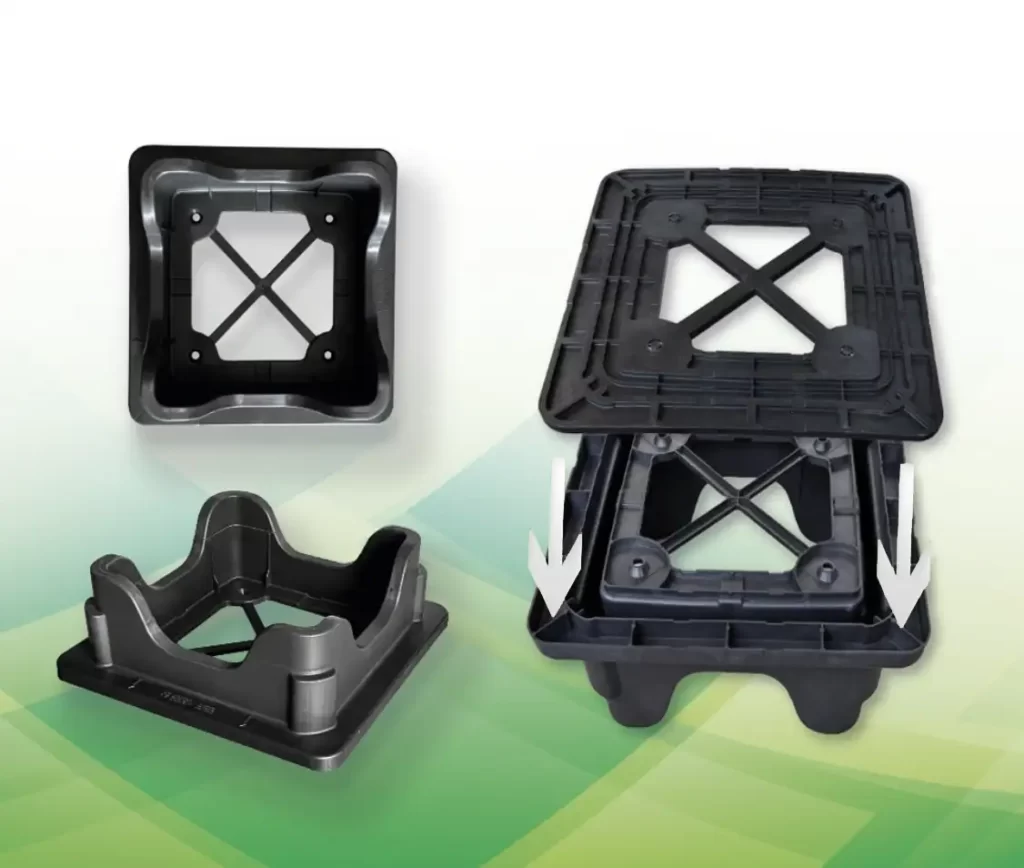 patented system
of the ballasted base
THE ANTI-INTEMPERIE AND ANTI-RANDAGISM BASE, in the absence of the possibility of ground fixing, is provided with a closing cover. The base thus can be closed and filled with sand, mortar, etc., to make it more stable and strong.
The closed and fully filled base has a weight of 5 kg.
BUCKETS FOR SEPARATE COLLECTION
Manifacturer: 4 ESSE SRL
Article: PAT25\02
Model: Dustbin lt.25
Material: polypropylene (PP) 80% recycled plastic
Bucket color: black
Lid and handle color: upon request
Weight: 1,226 Kg
Size: 36,5x35x36,5H –
Capacity: lt.25
Waste technology: differentiated
Bag capacity: 20-30 lt
Total volume: 25 lt –
Customization: by request
Anti-random closure: yes
Tag: yes
Place of use: outdoor indoor
Manifacturer: 4 ESSE SRL
Article: PAT35\01
Model: Dustbin lt.35
Material: polypropylene (PP) 80% recycled plastic
Bucket color: black
Lid and handle color: upon request
Weight: 1,376 Kg
Size: 36,5x35x50 H
Capacity: lt.35
Waste technology: differentiated
Bag capacity: 30-40 lt
Total volume: 35 lt
Customization: by request
Anti-random closure: yes
Tag: yes
Place of use: outdoor indoor
Technical data sheet
BASE FOR 25\35 LT CONTAINERS
Manufacturer: 4 ESSE SRL
Article: BS\PAT06
Model: Base per Pattumiera lt.25\35
Material: polipropilene (PP) Plastica riciclata 80%
Color: nero- colorato su richiesta
Weight: 0,610Kg
Size: 38,5×38,5 cm.14
Place of use: outdoor
Typology of use: support base for dustbin equipped with provision for sand filling for greater stability
CONTACT OUR CUSTOMER SERVICE